Abortions: Fake clinics on the rise
02 Apr 2023
Abortion is Healthcare (image: Gayatri Malhotra, unsplash.com)
"Anti-abortion Politics and Digital Infrastructures after Roe". This is the topic Dr Grace Tillyard1 discussed at the latest Goldsmiths (University of London) event.2 About reproductive politics, data and technology.
In the weeks following Roe's reversal in June 2022, which was a decision that removed federal protections for legal abortions in the United States, a number of toolkits circulated online that encouraged people to protect themselves from tech companies and law enforcement by enhancing their digital privacy, in the wake of the abortion procedure being criminalized in many states. Among the suggestions: turning off location tracking, buying a burner phone, avoid usage of unencrypted messaging apps, deletion of period tracking apps. Tech companies were sharing and selling data of abortion seekers on the market: Abortion seekers were concerned tech companies could expose them. And indeed they did. One data broker was selling bundles of location data of people visiting abortion clinics for 160 USD on the open market.3
In response to this, civil society organizations campaigning for digital rights have called for privacy protections specifically for data concerning abortion: "Fight for the Future" for example released a public statement demanding that tech companies reduce the data they are collecting on reproductive health information.4 The ACLU (American Civil Liberties Union) has called for collective action to fight for digital privacy for abortion seekers.5 On congressional side Democratic representatives and senators have put forward the "My Body, My Data" Act6, that aims to strengthen digital privacy and to protect personal reproductive health information.
So: The Dobbs decision really brought together discussions about the connection between reproductive privacy and data privacy and the role that big tech plays in reproductive politics.
Fake clinics
A lot of emphasis is on big tech companies gathering data, e.g. via period tracking apps. But anti-abortion crisis pregnancy centers (CPCs) in Florida pose way more immediate risk than period tracking apps. These centers are outposts of the anti-abortion movement. They pretend to be legitimate abortion clinics and have been developing sophisticated data collection mechanisms for years.
In Florida there are over 192 anti-abortion crisis pregnancy centers. They outnumber legitimate abortion clinics by 4:1. Google searches for "abortion clinic" make anti-abortion crisis pregnancy centers appear on top of the search results.
A glance at one of these websites will confirm that the center offers "Free pregnancy test, Free pregnancy consultation, Free ultrasounds".7 They also promise that all the information that they provide is given in a "non-judgmental setting"8 and that everything is "100% Confidential".9
These facilities will appear online as legitimate abortion clinics, but these centers are fake clinics, they are outposts of the anti-abortion movement and their aim is to dissuade women from terminating their pregnancy by using coercive tactics. For example center personnel tries to separate women from their belongings to make it more difficult for them to leave.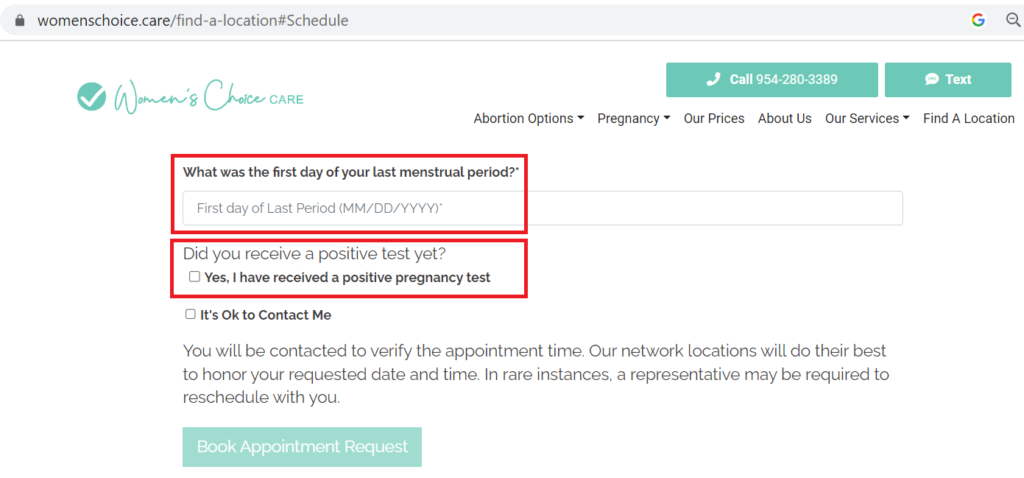 These centers have a well-developed digital strategy:
- they build websites that look like the ones of legitimate abortion clinics
- they position themselves next to legitimate abortion clinics and Google Maps labels them as legitimate abortion clinics
- they use search engine optimization (SEO) to make sure that their facility appears high up in online search results for local abortion clinics
- they advertise via social media profiles
- they use geo-fencing to advertise.
This digital strategy makes them a powerful part of the anti-abortion movement.
The language they use to describe themselves is very aggressive: "Heartbeat Miami's website stated that the pregnancy center movement must become a true urban movement",10 describing its pregnancy centers as "virtue capitalists".11
Finance
Florida funnels a lot of money to anti-abortion clinics. "The Florida Legislature has allocated at least $30 million to the Florida Pregnancy Care Network".12 "Florida Republicans will likely hand $25 million to anti-abortion pregnancy centers"13 in 2023. It will increase their networks reach14 to essentially deceive people and put peoples life in danger.
Data collection mechanisms
CPCs are not registered as health care facilities. Unlike legitimate medical facilities, the personal information provided by people to a fake clinic is not covered by federal privacy laws that protect patient health information from being disclosed. CPCs can treat these data as commercial data. Despite CPCs advertising their services as private and confidential - they are under no legal obligation to follow through on these claims. This means these data can be shared with third parties, they can be handed over to law enforcement. This is covered by their Terms of Service, where they outline they can share information to protect the care of women.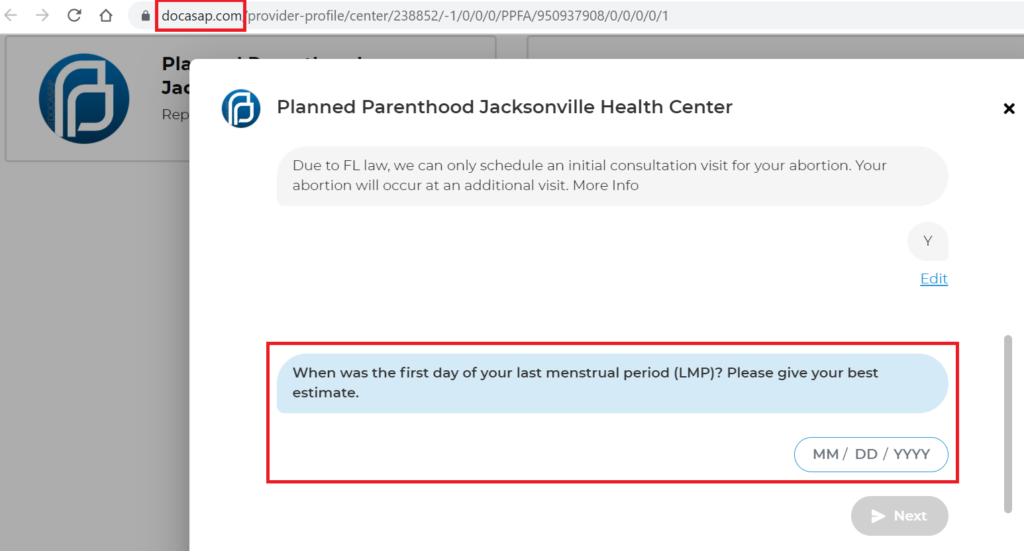 Conclusion
Roe's reversal will lead to injury, debilitation and death. The Dobbs decision means very real dangers of data exploitation for abortion seekers. It demarcates who is shielded from surveillance and top-down reproductive control and who isn't. The fight for reproductive autonomy and abortion access can help the quest for data justice, and vice versa.
---
The Goldsmiths event took place March 28, 2023.
Links:
The speaker:
Dr Grace Tillyard: https://reproductionresistance.wordpress.com/about/
The event:
https://www.gold.ac.uk/calendar/?id=14325
Further reading:
Federal Trade Commission Act: https://www.ftc.gov/legal-library/browse/statutes/federal-trade-commission-act
Second-wave feminism: https://en.wikipedia.org/wiki/Second-wave_feminism
Angela Davis: "Racism, Birth Control and Reproductive Rights": https://www.law.berkeley.edu/php-programs/centers/crrj/zotero/loadfile.php?entity_key=NWSGGN75
Jennifer L. Holland: "Tiny You": https://www.ucpress.edu/book/9780520295872/tiny-you
Michelle Murphy: https://www.history.utoronto.ca/people/directories/all-faculty/michelle-murphy
(LA)