Feminist foreign policy: Still more Thomases than women
31 Jan 2023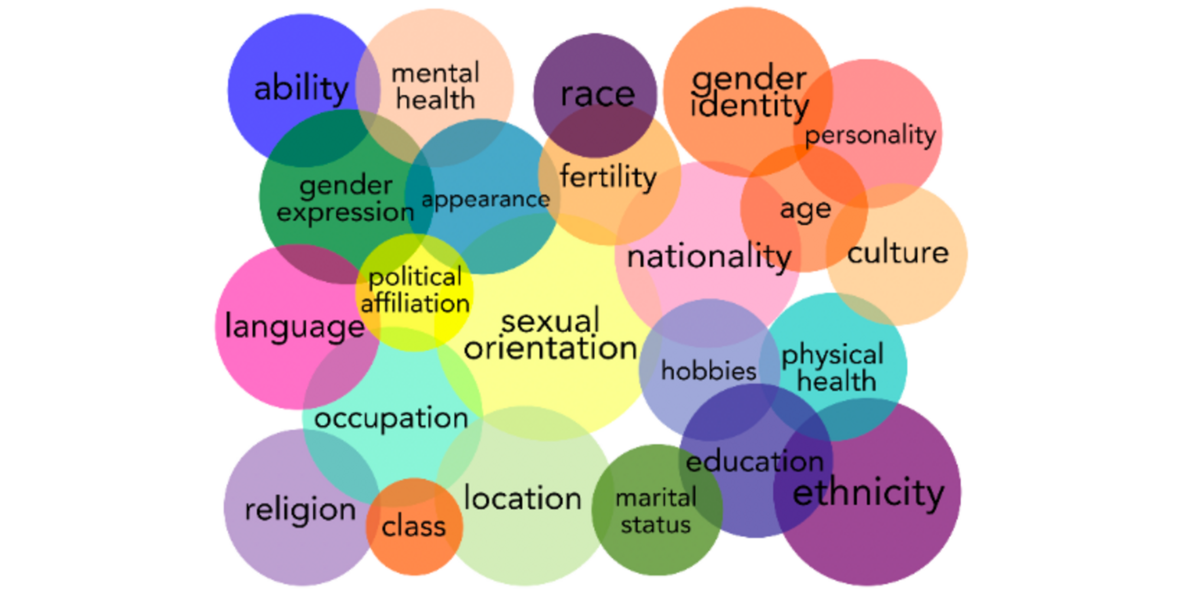 Intersectionality (Image: HannahNg, wiki.ubc.ca)
"Let's talk about feminist foreign policy". This is the topic Niels Annen (Parliamentary State Secretary at the Federal Ministry for Economic Cooperation and Development)1, Helga Barth (Director at the Federal Foreign Office)2, Karma Ekmekji (UN Women Advisor)3 and Nina Poppel (political influencer)4 approached at the latest event of the Körber-Stiftung5 in Hamburg. About politics that are exactly not only from women for women.
Intersectional feminism
Keyword: Intersectional feminism. Intersectional feminism is not only about equality between men and women, but about equality of chances. Intersectional feminism includes the different experiences and security desires of all disadvantaged groups: Like the poor, the disabled, the immigrants.
Feminist foreign policy
What is feminist foreign policy? In feminist foreign policy the security of the individual, not the security of the state, stands in the foreground. It's not only about wars between states, but also protection from other threats, like poverty, illness or environmental disasters. Feminist foreign policy aims to decrease power structures within society and foreign policy6.
By July 2022, countries embracing a feminist foreign policy included Sweden, Canada, France, Mexico, Spain, Luxembourg, Germany and Chile.7 In the United States, a resolution expressing support for this idea has been brought to the House of Representatives.8
Even though the "Convention on the Elimination of all Forms of Discrimination Against Women" has 99 signatories9, representation of women and marginalized groups is still not good. Where, for example, are women in politics? Are the politicians in charge representing our society? Barth asks: Is it representative if more people called 'Thomas' are at the table than women are in the room? As of January 3, 2023, there are 124 women in the U.S. House of Representatives, making women 28.6% of the total. In the Senate the number is even lower: 25 women, making women 25% of the total.10
"Feminism, not patriarchy" - this is what Niels Annen calls for.11 It's a question of justice. Feminist foreign policy needs more spotlight, especially in worrisome times like these, where even in developed democracies of the Western world women's rights are under attack - looking for example at the U.S. debate about abortion. These backwards debates damage the possibilities to have a dialogue with other countries about feminist foreign policies and having a believable position to enter a critical dialogue.
Where are the women?
In the year 2020 the Security Council of the United Nations unanimously passed a resolution on Women, Peace and Security (resolution 1325)12. That resolution called for countries to include more women in peace and security high level decision making positions. So: The legal framework for that is there. Yet, the numbers are low. Why is that? In the past 20 years everyone has been working on the supply side of the equation: training women on leadership, public speaking etc. Now, we have a great number of women, who are ready to lead. What's missing is the demand side of the equation: Nobody is calling for them to lead. According to Ekmekji, what's needed is to democratize the women and peace agenda and feminist foreign policy, so it's no longer an elitist topic.
Conclusion
Feminist foreign policy is a political framework, centered around all marginalized groups. It calls for a humanist, inclusive foreign policy. Policy makers should represent their societies, so justice and equality can be achieved.
---
The Körber-Stiftung event took place on 30.01.2023 in Hamburg. Speakers for this topic were Niels Annen, Helga Barth, Karma Ekmekji and Nina Poppel.
Links:
The speaker:
Niels Annen: https://www.nielsannen.de
Helga Barth: https://falling-walls.com/people/helga-barth
Karma Ekmekji: https://twitter.com/kdiplowomen
Nina Poppel: https://www.tiktok.com/@nini_erklaert_politik
The event:
https://koerber-stiftung.de/mediathek/lets-talk-about-feministische-aussenpolitik
The location:
https://koerber-stiftung.de
(LA)